From the messy desk of
Paul Levine...
The Washington Post cleaned up when the Pulitzer Prizes were announced yesterday. The newspaper won both the "public service" award and the "explanatory journalism" medal. The latter was for a series detailing the challenges faced by people on food stamps. The former was far more controversial. Shared with the Guardian, the Post won the Pulitzer for its revelation, examination, and explanation of National Security Agency documents STOLEN by Edward Snowden. (I prefer the word "stolen" to "leaked" or "disclosed.")
The Post says it had a team of 28 journalists working the story; I was happy to learn there's still a newsroom in America that has more than two dozen reporters and editors. But I'm not happy with the Pulitzer and the reflected glory it shines on Edward Snowden, that fleeing felon now protected by that great defender of liberty, Vladimir Putin.
I express my views in detail on this subject on MY OTHER BLOG, today entitled:
"Pulitzer Prizes 2014: Snowden Gets the Last Laugh."
As for the Washington Post, I find some irony in a story it published a few days ago, essentially pointing out the flaws in the Pulitzer Prizes. The story was entitled
"Five Myths About the Pulitzer Prize"
and asserted:
1. The Pulitzers don't honor the best in American journalism. Magazines, for example, are excluded.
2. Small news outlets don't have much of a chance.
3. Some newspapers chase prizes at a "disservice to readers." Frankly, I don't agree with that. "Chasing" Pulitzer Prizes generally means spending significant resources on major projects that serve readers.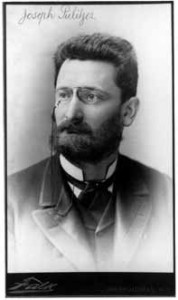 4. The Pulitzer Prizes are stuck in the 20th Century. That may have been true, but last year, the tiny on-line publication InsideClimate News won the award for national reporting for its
"rigorous reports on flawed regulation of the nation's oil pipelines, focusing on potential ecological dangers posed by diluted bitumen (or "dilbit"), a controversial form of oil."
InsideClimate News beat the other finalists, heavyweights Boston Globe and Washington Post, to win the award. (I suppose the medallion could be updated. It still shows a man hard at work on a 19th Century printing press, but isn't that part of the charm?)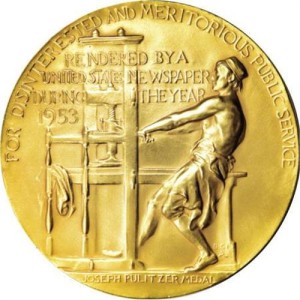 The complete list of the 2014 Pulitzers, from the History award for Alan Taylor's "The Internal Enemy: Slavery and War in Virginia, 1772-1832," to Poetry, Vijay Seshadri's "3 Sections," can be found
here.
Paul Levine