By Cornelia


So it's the day after Boxing Day (eighteen minutes after midnight), and I'm in Syracuse. Since I'll be on a Jetblue plane back to Cali at midnight on New Year's Eve, I thought I'd throw in my favorite New Year's DAY libation recipe up here on the blog.

This is a fine thing to have on hand on any occasion. There are lots of different recipe variations available online, and people get all fancy with the schmancy, but here's the basic drill:

Black Velvet

Mix one part Guinness stout with one part decent champagne.
Drink.

It's important that the champagne be dry. You can make this with Freixenet if you want, but if you go with a better bubbly you'll run less risk of hangover. Making it with Dom Perignon or something is overkill, however, IMHO.

Still, the bottle always looks nice:




Don't get all messed up with the foofy crap about pouring the champagne over the back of a spoon to keep it separate from the Guinness in a champagne flute. Drinks in layers are for pikers. The point is to mix the two liquids, so just pour each slowly to make sure you don't get foam everywhere (i.e. if you pour the Guinness first, let the head settle before you add the champagne).

I think the best way to make this is in a large chilled silver bowl, preferably Revere:





The (possibly apocryphal) history of this cocktail traces its origins to the Brooks Club in London, where it was concocted for the first time on December 15th, 1861--the day following the death of Prince Albert, consort of Queen Victoria. When a club member requested that the bartender serve him a glass of champagne, the bartender darkened it with stout, so that the wine would itself be "in mourning."

James Bond offers to treat Bill Tanner to a luncheon of "dressed crab and a pint of black velvet" at Scotts, after a meeting with M in Diamonds are Forever. Which just goes to prove that man does not live by martinis alone.

Meanwhile, here are some other New Year's traditions we've adopted in my family:

* Wear red underwear on New Year's Eve--an Italian tradition for good luck we took to after my sister spent junior year in Florence.

* Melt a piece of lead (like half of one of those chunks they use to balance tires) in a spoon over the stove and drop it into a bowl of cold water--the resulting shape is a prediction of what your year will be like. This is done in Germany, some Eastern European countries, and Sweden, apparently. I'm not sure who taught it to us.

* Fill a large bowl with water, and hang slips of paper with fortunes written on them all around the edge (about the size of papers you'd find in a fortune cookie). Make tiny boats out of halves of walnut shells. Light a birthday candle and stand it upright in the boat by dripping a bit of wax in the bottom. Let it float around the bowl until it gets close enough to the edge to light one of the papers on fire. Dunk the paper quickly into the water and read your fortune.
And don't forget to say "rabbit rabbit" first thing when you wake up in the morning (some claim it's important to put your right foot on the floor first, New Year's morning).
All of the above are good things to do while drinking black velvets, but no matter what you're drinking, I hope that 2007 brings you the best of health and happiness, and that it is a year in which there never is heard a discouraging word.

May you also get your wish card: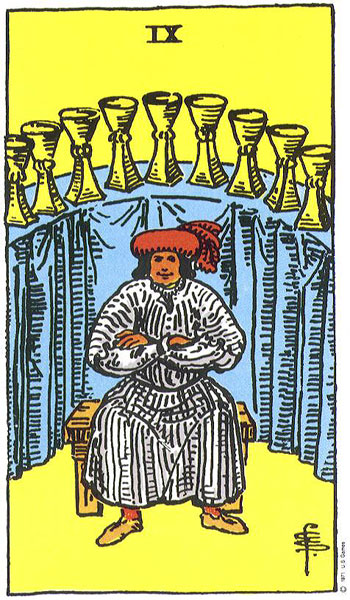 (If you have any other good New Year's luck practices, please share--we could all use a little nice juju in the coming year.)